Ignore fake notice claiming to be from National Lawsuit Notification Center under the jurisdiction of the Ministry of Justice
Local consumer affairs centers across Japan have received inquiries and complaints about billing fraud. The inquirers received an envelope claiming to be from the National Lawsuit Notification Center under the jurisdiction of the Ministry of Justice, which included a letter titled "Final notice of lawsuit over total consumption charges". They were wondering whether or not they should ignore it, suspecting the sender.
The letter reads, "We would like to inform you that your contracting company or operating company thereof filed a civil complaint against you over outstanding balance. The lawsuit will be launched after the final deadline for dismissing the case." The letter advises an addressee to call a fixed-line phone number to consult about abandonment of the case.
The letter intimidates an addressee, stating "If you don't call us by the date, we will have to seize your salary, movable and immovable property with the court enforcement officer present, so please allow us to deliver an execution deed from the court enforcement officer."
The sender claims to be a branch under the jurisdiction of the Ministry of Justice, but actually the sender has nothing to do with the Ministry of Justice and fraudulently uses the name.
The letter stresses that the written notice is sent in a sealed envelope, stating like "We are sending this notice in writing. In order to protect your privacy, please contact us by yourself." Under the formal court procedure, however, a court complaint in a sealed envelope with the court's name is directly handed to the person concerned in principle, and is not put in a mailbox.
Even if you receive a letter like the above, do not contact the fraudulent sender.
* The website of the Ministry of Justice shows how to spot a fake court notice.
* Various organization names have been used for fraudulent letters and postcards, for example, the Ministry of Justice, the National Consumer Affairs Center of Japan, local consumer affairs centers, etc. If you contact such a sender, fraudsters try to defraud you of money or try to get your personal data. Ignore such letters and postcards.
*The above web pages are written in Japanese
Example
Example of an envelope delivered to an inquirer
Photo 1. Example of an envelope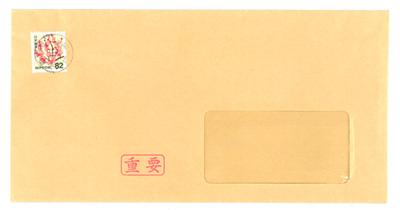 Example of an envelope delivered to an inquirer
Window envelope stamped "IMPORTANT" in red
Example of a letter in a sealed envelope delivered to an inquirer
Photo 2. Example of a letter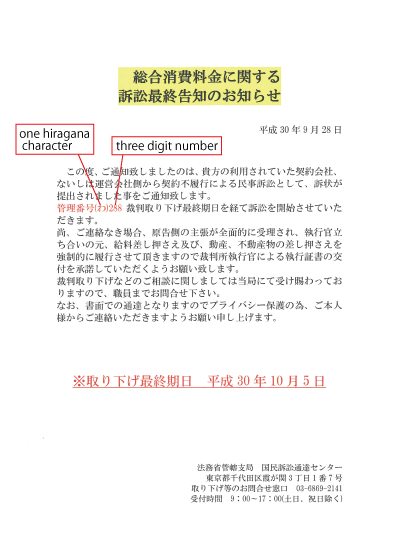 Photo of a letter delivered to an inquirer