Caution! Small frying pans and saucepans may tilt and fall when in use
Sample Cases
[Case 1]

I bought a frying pan with an inner diameter of 18 cm. When placing the frying pan on the gas stove trivet, it is not stable and tilts toward the handle. When I was cooking fried foods, the frying pan tilted and oil therein slopped over. I got burned.
(woman in her 50s)

[Case 2]

I bought a saucepan eight years ago. The screw in the handle was corroded and broken. When I raised the saucepan, food therein turned over and I almost got burned.
(man in his 70s)
There have been inquiries and complaints about small frying pans and saucepans (e.g. "When I placed a pan on the gas stove trivet, the pan fell down," "The handle resin was burned out," "The fixing screw was broken.")
Advice for consumers based on test results
(1) The pan bottom can be raised by the pressure of an overheat prevention device*, as a result of which a pan can tilt and/or fall down (Photo 1). Special care is needed when using a lightweight pan. Hold the handle when in use, paying attention to the positioning of the handle, the pan and the gas stove trivet.
* The temperature sensor with spring contacts the pan bottom. When the surface temperature reaches 250 degrees C, the overheat prevention device turns off gas automatically.
Photo 1: Frying pan tilted toward the handle when being raised by the overheat prevention device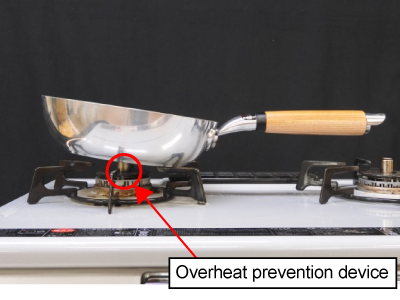 (2) In case of a small diameter pan, flames come close to the handle root. Flames rising from the pan bottom tend to touch the handle directly (Photo 2). If you keep cooking with a pan when the surface temperature of the handle resin exceeds the heatproof temperature, the handle can be burned out and broken, as a result of which the pan can fall down. Be careful with flame settings.
Photo 2: Different flame sizes depending on the gas settings


(3) If a long fixing screw is inserted from the end into the root of the handle and water remains inside the handle, the screw can be corroded and broken, as a result of which the pan can fall down when in use (Photo 3, 4). After washing a pan, drain water and dry well. If a handle screw is loose, tighten the screw.
Photo 3-1: Tap water enters the drainage hole on the handle
(Pouring water on a frying pan)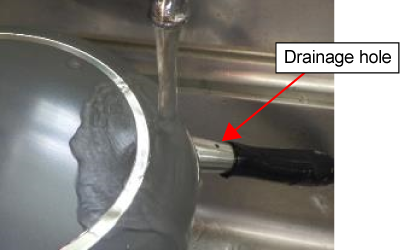 Photo 3-2: Water enters the drainage hole on the handle
(Frying pan fully submerged in water)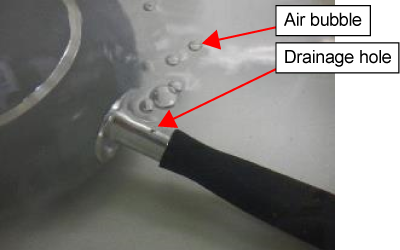 Photo 4: Screw corroded inside the handle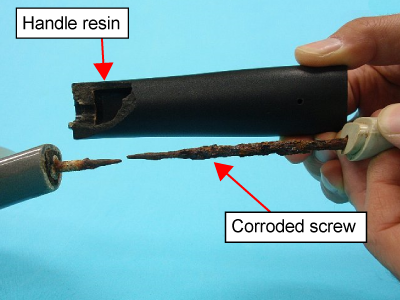 Reference: