Carefully handle small diameter frying pans and saucepans - they may fall while cooking, handle may burn out and fixation screw may corrode
In about five years from FY2016, PIO-NET1 received 129 reports of harmful or hazardous incidents2 where frying pans and saucepans tilted and fell while cooking (e.g. "A frying pan tilted when I put it on the gas stove trivet and fell down," "A resin portion of a frying pan handle got burned," "A screw in a frying pan handle was broken."). NCAC has received requests for testing these products several times per year from local consumer affairs centers across Japan. The above incidents mostly occurred when using small diameter frying pans and saucepans.
In the recent pandemic, people have been encouraged to stay home rather than going out to prevent COVID-19 infection. It is assumed that small diameter frying pans and saucepans are more often used than before the pandemic by small families, especially when cooking a small amount of food.
Therefore, NCAC decided to examine the risk of small diameter frying pans and saucepans falling during cooking, referring to our laboratory findings in the past, and to share safety tips and precautions in using small diameter frying pans and saucepans.
1 PIO-NET is a database that collects information on inquiries concerning consumer affairs by linking NCAC with local consumer affairs centers and similar organizations across Japan via an online network.
2 Data registered from April 2016 through the end of May 2021, excluding inquiries refereed from local consumer affairs centers to NCAC. The inquiries were sorted out and counted for this article.
Test results
Sometimes the pan bottom was raised by the pressure of an overheat prevention device, as a result of which a frying pan tilted and/or fell down.
When the gas heat was maximized, the surface temperature of the handle's resin exceeded the heatproof temperature.
The screw in the handle could be corroded by water entered from the drainage hole.
Instruction manuals of all the tested products included precautions against possible instability of a pan on a gas stove, burnout of the handle and corrosion of the handle screw.
Photo: Frying pan toppled when food was taken from it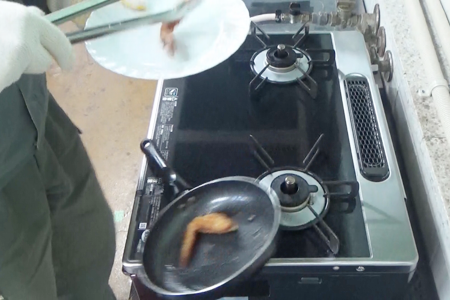 Advice for consumers
When using a small diameter pan on a gas stove, the pan may be tilted by the pressure of the overheat prevention device. Hold the handle and cook with care.
When using high flame settings, the flame tip may touch and burn out the handle's resin. In case of a small diameter pan, flames come close to the handle root: flames rising from the pan bottom tend to touch the handle directly. Be careful with flame settings.
If a long screw is inserted from the end into the root of the handle, the screw may be corroded when water remains inside the handle. Drain water after washing a pan. If a handle screw is loose, tighten the screw.
Request to businesses
Further inform consumers of the proper way to use small diameter frying pans and saucepans.
Video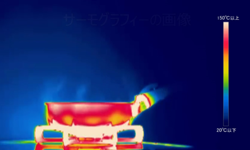 Video: Carefully handle small diameter frying pans and saucepans