Be careful with storage period of gas cartridges! Gas may leak due to deteriorated rubber seal
Sample case
I kept a gas cartridge at home to prepare for natural disasters. Although it got old, there was no appearance change. I inserted it into a portable gas stove and used it at kitchen. Suddenly the insertion part caught fire and flared up to about 20 cm high.
(woman in her 50s)
It's convenient to use a gas cartridge for a portable gas stove. On the other hand, it contains flammable high-pressure gas and must be used with care. Since FY2014, PIO-NET1 has received 283 inquiries and complaints about gas cartridges. Among them, 64 cases were about gas leakage.2 Therefore, NCAC examined gas cartridges that had been stored at households for a long time, sometimes under bad conditions.
1 PIO-NET is a database that collects information on inquiries concerning consumer affairs by linking NCAC with local consumer affairs centers and similar organizations across Japan via an online network.
2 The above shows data registered from April 2014 through the end of October 2019. The number of the cases was specially counted for this article.
Problems and advice
Structure of the spout of a gas cartridge
When the spout is inserted into the prescribed position of a portable gas stove, compressed gas is ejected. The rubber valve seal on the root of the stem prevents the escape of gas. When the valve seal has become stiff due to aging, it may not ensure airtightness, which may cause gas leakage and catching fire (See the Photo).
In addition, deformation of the metal part and rust on the surface may cause gas leakage.
Portable gas stove catching fire due to gas leakage from a gas cartridge soon after ignition (re-enacted scene)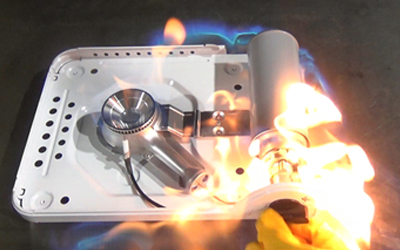 Gas leakage from gas cartridges stored for a long time and those kept under bad conditions
Survey results showed that gas leaked from some of the gas cartridges which had been stored for 16 years or more although they did not have deformation or rust around the stem. When examining the rubber valve seals of the gas cartridges which leaked gas due to prolonged storage, the seal became stiff due to aging. In other cases, gas leakage occurred from gas cartridges which were rusted all over the metallic surface after being placed outdoors for 5 years.
Check the date of manufacture and store properly
Gas cartridges sold in recent years are marked with a date of manufacture.3 When using a gas cartridge stored at home, check the date of manufacture and make sure it is within the storage life. Do not use a gas cartridge if you don't know when it was manufactured or purchased, or if the metal part is deformed or rusted.
Take a gas cartridge out of a portable gas stove after use and store it properly. Check the appearance and the date of manufacture once a year and use up the gas within the storage life.
3 Gas cartridges manufactured on or after October 1, 2013 by companies in Japan are marked with a date of manufacture.
Reference: