Caution! When stroller falls over, baby may fall from it
Accident case
When I was walking down a slope in a parking lot with a baby in a stroller, the stroller fell over toward me as if being pulled by a bag hung from the stroller's handle. My baby did not wear safety belts. He fell from the stroller and landed on his head. He was diagnosed with traumatic subarachnoid hemorrhage and stayed in hospital for 7 days.
(injury of a boy aged one month registered with Medical Facilities Network1)
The Medical Facilities Network and local consumer affairs centers across Japan have received numerous accident reports related to strollers (e.g. "A stroller with a baby in it fell over," "My baby fell from a stroller and got injured."). Some consumers requested to examine a certain product to find out if there's any defect. Therefore, NCAC has conducted a questionnaire survey2 to find out how strollers are actually used and has tested 7 stroller brands which are considered to be selling well to seek accident factors.
1 The Medical Facilities Network is a joint project by the Consumer Affairs Agency and NCAC which started operating from Dec. 2010. The network collects accident reports on people receiving treatment at medical facilities after suffering life-threatening or bodily injuries in their daily lives.
2 NCAC has conducted a questionnaire survey of 1,000 men and women having children and using a stroller mainly for a child under 4 years old
Problems and Advice
Stroller is prone to fall over when a bag is hung from the handle
Questionnaire results show that more than 70% of the respondents have installed a hook on a handle and have used it for hanging a bag. About 30% of the respondents have experienced that a stroller has fallen over or a baby has fallen from a stroller. About 70% of the accidents were caused by a bag hung from a handle.
All the tested brands instruct on their labels not to hang a bag from the handle. Test results show that a stroller is prone to fall over when a bag is hung from the handle. A stroller is particularly prone to fall over when a smaller and lighter infant is riding or when front wheels are raised while climbing a slope or riding over a stepped surface or any obstacle.
Illustration: Minimum slope angle to cause falling over when climbing a slope (with or without a 3kg bag hung from handle)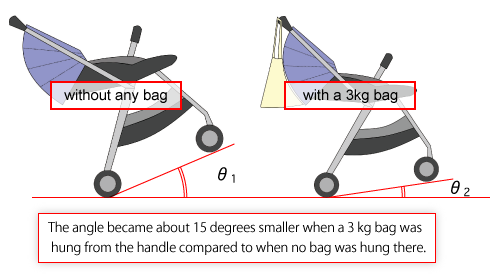 Fasten safety belts
Questionnaire results show that less than 70% of the respondents have fastened safety belts every time they take their children for a stroller ride. During product testing, a baby dummy without wearing safety belts was sometimes thrown from a stroller when the stroller fell over. Be sure to buckle safety belts every time you take a baby for a stroller ride in order to avoid accidents and minimize damage.
Photo: Accident simulation when a stroller falls over (without safety belts on)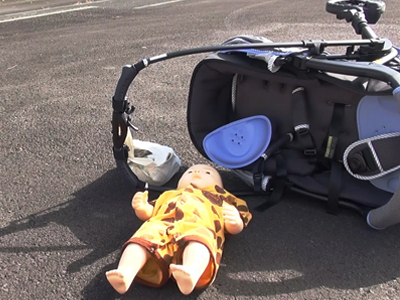 Reference: