Memorandum of Cooperation on Complaints Handling concluded between NCAC and Consumer Protection and Technical Regulatory Authority of Estonia
The Memorandum of Cooperation (MoC) on Complaints Handling has been concluded between the National Consumer Affairs Center of Japan (NCAC) and the Consumer Protection and Technical Regulatory Authority of Estonia. Mr. Tsuneo Matsumoto, President of NCAC and His Excellency Mr. Väino Reinart, Ambassador Extraordinary and Plenipotentiary of the Republic of Estonia to Japan exchanged the MoC at the Prime Minister's Office of Japan on February 10, 2020.
The Consumer Protection and Technical Regulatory Authority(CPTRA), a governmental organization established in 2019 by merging Consumer Protection Board and Technical Regulatory Authority. CPTRA is operating in the administrative area of the Ministry of Economic Affairs and Communications and its main goal is to regulate the market in the fields of market surveillance, construction, communications and consumer protection. CPTRA operates as the secretariat for the Consumer Dispute Committee, which resolves consumer disputes independently pursuant to Acts and other legislation. The committee is competent to resolve both domestic and cross-border consumer disputes which arise from contracts between consumers and businesses and which are initiated by a consumer if one of the parties to the dispute is a business whose place of establishment is in the Republic of Estonia.
Based on the MoC, NCAC and the Consumer Protection and Technical Regulatory Authority will make cooperative efforts to solve problems faced by consumers in transactions between Japan and Estonia (i.e. problems encountered between Japanese consumers and Estonian businesses as well as those between Estonian consumers and Japanese businesses), for example, troubles associated with international travels, cross-border online shopping, etc.
NCAC will continue to address the resolution of cross border consumer disputes in cooperation with consumer organizations in other countries.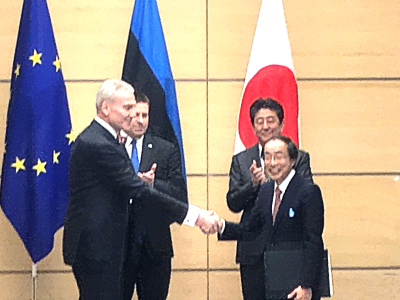 Ambassador Reinart (left) and President Matsumoto (right) after signing the MoC