MOU concluded between NCAC and NCCC (Malaysia) to ensure mutual cooperation in solving cross border consumer complaints
The MOU has been concluded between the National Consumer Affairs Center of Japan (NCAC) and the National Consumer Complaints Centre (NCCC, Malaysia) in order to ensure mutual cooperation in solving cross border consumer complaints.
The MOU signing ceremony was held at NCCC's office in a suburb of Kuala Lumpur on March 7, 2017. Prof. Emeritus Tsuneo Matsumoto, President of NCAC and Prof. Datuk Dr. Marimuthu Nadason, Chairman of NCCC signed the MOU.
NCCC was founded in 2004 as an agency to provide consultation services, education, and policy recommendations in the area of consumer issues. These activities have been partly funded by domestic transactions, a cooperative union, and the Ministry of Domestic Trade & Consumer Affairs (MDTCA).
NCCC accepts inquiries from consumers and provide advice and mediation to help solve their problems. NCCC closely cooperates with Tribunal for Consumer Claims and other relevant organizations with a view to resolving consumer complaints.
Based on the MOU, NCAC and NCCC will make cooperative efforts to solve problems faced by consumers in transactions between Japan and Malaysia (i.e. problems encountered between Japanese consumers and Malaysian businesses as well as those between Malaysian consumers and Japanese businesses), for example, troubles associated with international travels, cross-border online shopping, etc.
NCAC will keep working for resolution of cross border consumer complaints in cooperation with consumer organizations in other countries.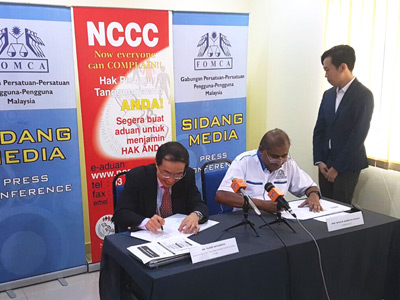 Scene of signing the MOU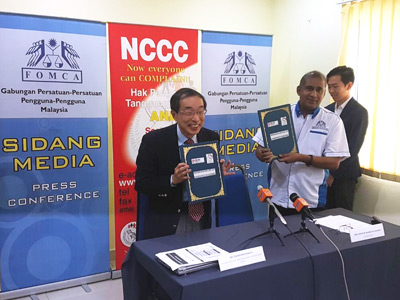 Prof. Emeritus Matsumoto (left) and Prof. Datuk Dr. Marimuthu (right) after exchanging the MOU
Reference
The following link directs you to the article about this subject on the MOU partner's website.