Baby suffocated with a small loaf of bread! Break bread into small pieces and pay attention till a baby finishes eating and swallowing
In October 2020, the Doctor Mailbox1 on NCAC's website received a report that a boy aged 10 months died from choking on a small loaf of bread. The product label of the bread said "suitable for children aged 10 months and over". In June 2021, the Doctor Mailbox received another report that a boy aged 11 months choked on bread of the same brand without indication of target age range.
In order to prevent food choking incidents of babies aged around 12 months, NCAC decided to issue a consumer alert. Incidentally, the manufacturer of the products concerned are already making efforts to change the target age range and precautions labeled on the product packages and to improve physical properties of the bread including size.
1 In August 2014, NCAC set up a web page called "Doctor Mailbox" to catch information directly from doctors about accidental injuries caused by products or services in order to help prevent similar incidents.
Incidents reported to the Doctor Mailbox
[Case 1]

A baby choked on a small loaf of bread when trying to swallow it. The baby died after being raced to the hospital.

[Case 2]

A parent broke bread into pieces to feed a baby. The baby choked on the bread.
Photo: Small loaves of bread
(left: product related to Case 1; right: product related to Case 2)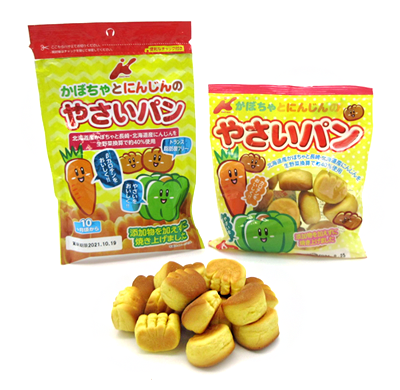 Advice for consumers
When feeding a baby aged around 12 months, cut food into small pieces so that the baby can eat comfortably. Pay attention till the baby finishes swallowing food.
In case of food choking, immediately perform an emergency procedure and call an ambulance.
Request to the manufacturer
Improve the bread with regard to size, shape and other physical properties promptly. Label proper precautions on packages of the products currently sold.
Request to the government
Keep informing consumers of choking incidents caused by infant food. Make businesses aware of the importance of prevention against choking incidents caused by infant snacks.