Watch out for air bed leaks
In recent years, there has been a sharp increase in the number of inquiries about air beds inflated with air by an internal electric pump. In about five years from April 2015 to October 2020, PIO-NET1 received 442 inquiries concerning air beds, 70% of which pertain to air leakage. The 442 cases include 9 harmful or hazardous incidents caused by air leakage (e.g. "My air bed deflated and I became incapable of moving," "I fell out of a deflated air bed and got injured").2
NCAC received requests from some local consumer affairs centers to conduct air leak tests of air beds concerned.
Therefore, NCAC conducted air leak tests simulating the accidents to inform consumers of how air beds should be used.
Photo 1. General air bed not filled with air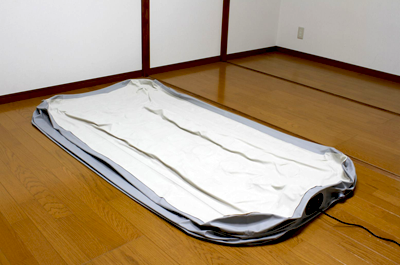 Photo 2. General air bed filled with air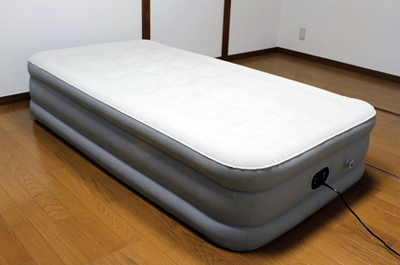 1 PIO-NET is a database that collects information on inquiries concerning consumer affairs by linking NCAC with local consumer affairs centers and similar organizations across Japan via an online network.
2 Data registered from April 2015 through October 28, 2020, excluding inquiries referred by local consumer affairs centers to NCAC. The above inquiries were categorized and counted for this report.
Facts from PIO-NET
Inquiries about air beds have sharply increased since FY2016.
More than 90% of the air beds were purchased through mail order.
The inquiries were mostly from consumers in their 60s to 80s. About 60% of the inquiries were from men.
Approximately 70% of the inquiries were about air leakage. Nearly 30% of the leakage cases indicate the possibility that air started to leak at the first use.
Nine harmful or hazardous incidents are supposed to be caused by air leakage. In 5 out of the 9 cases, users lost balance or fell out of an air bed.
Test results
Air pressure in air beds
The air pressure in each tested product reached a maximum level (between 2.2 and 2.8 kPa) soon after the electric pump was stopped. After that, the air pressure rapidly decreased in about 60 minutes, and then gradually decreased.
When the electric pump was operated for 60 to 90 seconds more than the operating time indicated in the instruction manual, air pressure increased by 20 to 30% and the air bed got rounder.
Piercing test
It was found that the force to pierce through an air bed with a mechanical pencil or toothpick was smaller than that to stick a straw into a beverage box.
The upper face of the air bed was flocked and was around 0.5 mm thick. The bottom face and side faces were around 0.4 mm thick.
Air leakage simulation test
When the air pressure decreased to around 1.0 kPa, it was not easy to sit up in bed. When the air pressure further decreased to around 0.75 kPa, the whole body was buried in the bed and it was difficult to sit up in bed.
When an adult dummy was laid on the edge of the air bed and the air pressure decreased to around 1.5 kPa, sometimes the air bed overturned and the dummy fell out of the bed.
The air pressure extremely decreased even when the hole was about 1.0 mm width. Within 19 to 35 minutes after stopping the electric pump, the air pressure decreased to 1.5 kPa, which could cause falling from the bed when lying on the edge.
Labeling and representation
Each instruction manual includes some usage notes specific to air beds.
The warranty period differs from brand to brand. Some brands do not warrant air leaks caused by daily use.
Advice for consumers
If you continue to use an air bed with low air pressure, you may fall out of the bed. According to the cases registered with PIO-NET, some consumers fell out of air beds and got injured. Do not use an air bed with low air pressure.
There are some usage notes specific to air beds for which air is used as cushion. Carefully read them before purchase.
After buying and receiving an air bed, check if there is any air leak right away.
When using an air bed, make sure there isn't any sharp item around the bed, on your clothes and in the pockets.
Air beds may suffer damage and leak air. Read the instruction manual and check the operating time of the electric pump. Do not inflate too much air.
Video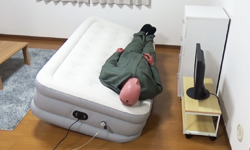 Video: Watch out for air bed leaks