Acid foot care products may cause chemical burns or serious pain!
There have been acid foot care products on the market. If your feet are soaked in acid solution in plastic booties, dead skin cells on the soles are exfoliated and your foot skin will be smooth, according to the advertisement. The liquid in these products often contains hydroxy acid (e.g. glycolic acid, salicylic acid, lactic acid), which facilitates exfoliation of dead skin cells.
In October 2018, Doctor Mailbox1 on the NCAC's website received a report where a consumer used an acid foot care product and suffered from chemical burns. Moreover, PIO-NET2 received 26 inquiries and complaints about chemical burns or pain experienced by users of the products in about five years starting from FY2013 (data registered through January 15, 2019).
Therefore, NCAC examined five brands of acid foot care products sold by drugstores, etc. to measure the amount of hydroxy acid in the liquid and to check labeling thereof. Based on the results, NCAC decided to issue an alert to consumers.
1 Doctor Mailbox is a web page for doctors to inform NCAC of accidental injuries caused by products or services.
2 PIO-NET is a database that collects information on inquiries concerning consumer affairs by linking NCAC with local consumer affairs centers and similar organizations across Japan via an online.
Accident report received by Doctor Mailbox
I bought a foot exfoliating product at a drugstore and used it in accordance with usage instructions of the product. After that, my instep skin was eroded extensively. I consulted a doctor six days after using the product. The symptoms were diagnosed as chemical burns. My foot skin was extensively desquamated, so the doctor applied ointment there and prescribed antipyretic antiphlogistic analgesic for me. Six days later I revisited the doctor. My feet were pigmented and had some scabs. I still felt pain in my feet. The doctor applied a moisturizer there to protect my skin.
(patient: woman in her 60s / medical consultation in October 2018)
Photo 1. Appearance of the affected area (sole)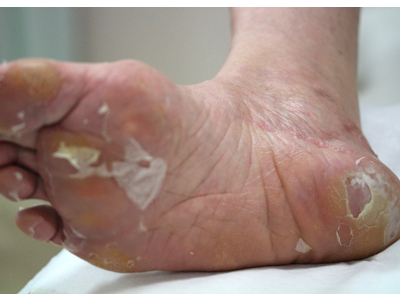 Photo 2. Appearance of the affected area (instep)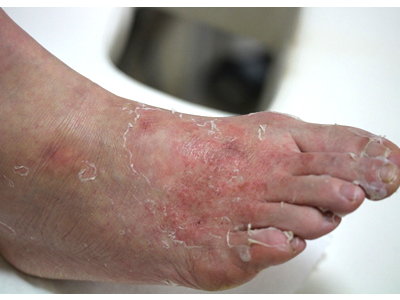 Main test results
Hydroxy acid
The percentage of hydroxy acid was between 5.2% and 12.1%. While the maximum safe limit for cosmetics set by the U.S. Food and Drug Administration (FDA) is 10%, the liquid of one of the five brands contained more than 10% alpha hydroxy acid.
pH
The pH was between 2.4 and 4.0. While the lower safe pH limit for cosmetics set by FDA is 3.5, the pH of three brands was below 3.5.
Labeling and representation
All of the five brands showed a photo of exfoliated feet. It appears that consumers may not be able to determine whether symptoms after use are skin problems or not.
All of the five brands stated that feet would be exfoliated within a few days after use. It may be difficult for consumers to properly adjust the soaking time.
All of the five brands suggested that dead skin cells of feet would be peeled off by just wearing the booties. The efficacy described may go beyond the accepted efficacy of cosmetics.
Advice for consumers
When using acid foot care products, soak your feet only a short time at first, far less than the time indicated.
Request to businesses
NCAC requests businesses to review and improve ingredients and labeling for acid foot care products so that consumers can more safely use the products.
Request to the government
NCAC requests the government to investigate acid foot care products and to take some measures as appropriate, for example, to review the legal classification of drugs and medical devices.