Beware of fake shopping sites for winter clothes and shoes! Many troubles in winter
There have been many inquiries and complaints about online shopping (e.g. "I waited for a long time, but my order never came.", "A fake product was delivered.", "I emailed the seller, but there's no response yet.").
Recently, many fake shopping websites are launched in the season when Japanese consumers buy winter clothes and shoes. Troubles related to these websites tend to concentrate between November and January in Japan (See Diagram).
When you buy something through an unfamiliar website, take extra care.
Diagram: Number of inquiries about online frauds or fake products per month*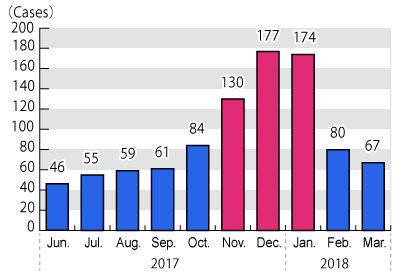 The number of inquiries was 46 in June 2017, 55 in July, 59 in August, 61 in September, 84 in October, 130 in November, 177 in December, 174 in January 2018, 80 in February, and 67 in March.
* Analysis of inquiries received by Cross-border Consumer Center Japan (CCJ) in the National Consumer Affairs Center of Japan.
[Case1]

Seeing an ad of an online shopping site on SNS, I bought a down jacket with my credit card. The ad mentioned "clearance sale 80% off". The website was sufficiently structured, so I ordered the jacket without hesitation. The website mentioned that delivery time would be one or two weeks. I waited for my order for a longer time, so I tried to contact the seller. Then I found that contact details were not shown on the website. At a later date, I received a bill from the credit card company. Do I have to accept this loss?
Points to avoid trouble related to online frauds or fake products
Point 1
Check information on the website to see if any of the following applies.
Characters or wording is unnatural as Japanese.
Products are sold at a big discount.
Seller's postal address is not shown or oddly written.
The seller is accessible only through an inquiry form or free email service.
Payment is available through a bank transfer only.
Terms of use include something unnatural or unjust.
Links in the website do not work properly.
Strange URL
SSL (secure socket layer) is not applied to the personal data entry page.
Point 2
Use a server check website to check the website and the server.
Point 3
Search for information on troubles over the website on the Internet.
Point 4
Before placing an order, inquire something of the website operator. Check the response if any. Unnatural characters or wording? No response?