Beware of contractual trouble at gyms; inability to cancel, expensive cancellation fee, etc.
Recently, more and more people use sports gyms, yoga classes, exercise classes, etc. (hereinafter called "sports gyms, etc.") for various reasons: for maintaining or improving health, losing weight, improving sports skills or other purposes1. In response to this trend, inquiries related to sports gyms, etc. received by local consumer affairs centers and the like across Japan are on the increase year by year. The number exceeded 3,500 in FY2017 (See Diagram).
The inquiries include those about contractual trouble and use of sports gyms, etc. Many of the inquirers encountered trouble over cancellation (e.g. "I was told that mid-term cancellation was not possible.", "I was charged an expensive cancellation fee.").
In order to reduce this sort of problems, NCAC introduces some trouble cases and provides advice and tips for cancellation to consumers, while making a request to relevant organizations.
Diagram: The number of inquiries about gyms, etc. registered to PIO-NET2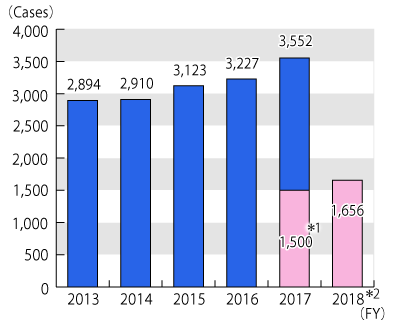 Note:*1 The pink area of the bar shows 1,500 inquiries received from April 1, 2017 through September 30, 2017, for comparison with the same period in FY2018.
Note:*2 The data in FY2018 shows inquiries from April 1, 2018 through September 30, 2018.
The number of inquiries was 2,894 in FY2013, 2,910 in FY2014, 3,123 in FY2015, 3,227 in FY2016, 3,552 in FY2017, and 1,656 in FY2018 (through September 30, 2018). The number in the same period in FY2017 was 1,500.
1 Statistics on specified services: 18. Fitness club (real number and increase rate) (Ministry of Economy, Trade and Industry)
Action plan for increasing frequency of sports activities (report), global sports strategy (report) (Japan Sports Agency)
2 PIO-NET is a database that collects information on inquiries concerning consumer affairs by linking NCAC with local consumer affairs centers and similar organizations across Japan via an online network. The above graph shows data registered through September 30, 2018, excluding inquiries referred from local consumer affairs centers to NCAC.
Sampling of inquiries and complaints
[Case1]

I was forced to sign a gym contract. Later I requested cancellation, but the contractor told that cancellation was not possible within a certain period.

[Case2]

A cancellation fee charged by a sports gym was much higher than the amount originally mentioned by a staff member of the gym.

[Case3]

My elderly mother requested cancellation of a gym contract, but a staff member stopped her from cancelling it and manipulated her into signing a contract for regular purchase of protein supplements.

[Case4]

When I cancelled a gym contract before using the gym, a staff member told me to pay in full.

[Case5]

Monthly charges had been withdrawn from my account by a sports gym which I had quit some time ago.

[Case6]

An appointment-based gym is always fully booked. I want to cancel the gym contract.
Problems highlighted from sampling of inquiries and complaints
Some consumers were rushed into signing a gym contract. (e.g. It was necessary to sign a contract on the day to receive a discount.)
Inability to book an appointment-based gym, gap between sales pitch and customer experience.
Many troubles over cancellation. Some consumers were charged an expensive cancellation fee.
Some contractors refused to cancel a contract. In some cases, cancellation was not executed for some time.
Advice for consumers
Be sure to read a written contract and terms of use. Confirm contract details before signing a contract.
Carefully confirm a cancellation policy. Ask for a detailed explanation.
In principle, it is unable to apply the cooling-off rule to gym contracts. Take time to think before signing a contract.
Carefully confirm terms and conditions before cancellation.
If you feel uneasy or get in trouble, consult your local consumer affairs center.
Request to business associations
In order to prevent contractual trouble over sports gyms, etc., NCAC requests relevant business associations to guide member companies to further make efforts as follows.
Provide users with information necessary for preventing contractual trouble, by delivering easy-to-understand documents including a contract period, charges, a cancellation policy, a cancellation fee, and how to cancel, and giving an oral explanation in a correct manner. Conduct employee training to ensure the above.