It wasn't supposed to be like this! Contractual trouble over price or service of cleaning out belongings of the departed
With the trend toward nuclear families and single-person households, service of cleaning out belongings of the departed1 has gained attention. Local consumer affairs centers and similar organizations across Japan received numerous inquiries and complaints about the service (e.g. "I was charged an expensive additional fee", "Mementos which I wanted to keep were discarded")
Therefore, NCAC decided to introduce some trouble cases related to service of cleaning out belongings of the departed and issue an alert to consumers, providing updates to relevant organizations, so that consumers can sort through and clean out articles left behind without losing important mementos.
Diagram: Annual transition in the number of inquiries registered to PIO-NET2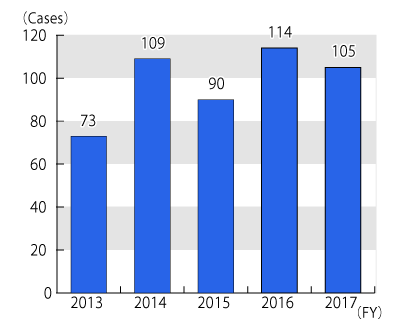 The number of inquiries was 73 in FY2013, 109 in FY2014, 90 in FY2015, 114 in FY2016, and 105 in FY2017
1 Inquiries about service of cleaning out belongings of the departed include those about service of cleaning out belongings of the departed ordered by relatives, etc. and those about recycle service used for cleaning out belongings of the departed, excluding cases where inquirers intended to sell articles left behind.
2 Inquiries in FY2018 through June 30, 2018 registered to PIO-NET amounted to 31. Those in the corresponding period of previous year (from April 1, 2017 through June 30, 2017) amounted to 16. PIO-NET is a database that collects information on inquiries concerning consumer affairs by linking NCAC with local consumer affairs centers and similar organizations across Japan via an online network.
Sampling of inquiries and complaints
[Case 1]

When getting a quotation, I entered into a contract under pressure. The work has not been started yet, so I want to cancel the contract.

[Case 2]

When I applied for cancellation, I was charged an expensive cancellation fee.

[Case 3]

I was charged an unexpected extra fee during the work. The total cost was twice as much as the estimate.

[Case 4]

The contractor discarded what I had asked not to do so.
Problems highlighted by the sampling of inquiries and complaints
Some consumers entered into a contract without examining contract details very well and then got in trouble.
A cancellation fee may be expensive.
Some consumers were charged an additional fee on the day of cleaning out and got in trouble.
Some mementos were discarded by mistake. The outcome was different from expectation, which caused trouble.
Advice for consumers
Carefully select the contractor. Get competitive quotes from two or more companies.
Get an itemized quotation including all of the details/costs and carefully check it.
Confirm all the details in advance such as price, cancellation fee, service to be offered, etc.
Clearly separate mementos from things to be disposed of.
If you get in trouble with a contractor, consult your local consumer affairs center.