Full liberalization of the electricity retail market in less than 50 days! - Collect right information and fully understand contract details! Watch out for opportunistic solicitations -
The electricity retail market will be fully liberalized on April 1, 2016.
On December 17, 2015, NCAC provided information on consultation cases and advice for consumers in association with the start of full liberalization of the electricity market.
Even after that, inquiries and complaints related to electricity market liberalization have been reported under the circumstances where concrete price plans were presented by various businesses planning to enter the market and new businesses are trying to enter the market.
Accordingly NCAC has decided to share recent consultation cases and issue a warning to consumers.
Number of consultation cases
Diagram 1:
Transition in the number of consultation cases related to electricity retail liberalization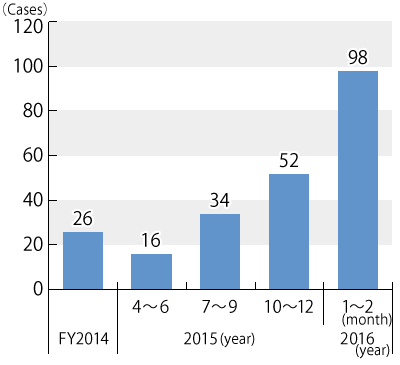 (data registered through February 9, 2016)
The number of consultation cases was 26 in FY2014 (from April 2014 to March 2015), 16 in April-June 2015, 34 in July-September 2015, 52 in October-December 2015, and 98 in January-February 2016.
Sample cases of inquiries and complaints
[Case1]

I entered into a contract for an electric water heater because a door-to-door salesperson told that it would decrease my utility charges, but now I want to use the cooling-off rule. (There was a phone call from a person claiming to be with an electricity company saying "I would like to visit you to introduce a plan to reduce utility charges", so I thought the plan was related to electricity retail liberalization. Actually, the person solicited to make a contract for an electric water heater.)

[Case2]

I concluded a contract for an expensive solar power system after being solicited by a door-to-door salesperson saying "It will help you because the electricity fee will be higher due to electricity retail liberalization". Now I want to cancel the contract.

[Case3]

A door-to-door salesperson claiming to be with a business affiliated with an electricity company said "The electricity fee will be lower because of the electricity retail liberalization. For this adjustment, we would like to conduct a survey", then I signed a paper. I wonder if that means entering into a contract.

[Case4]

A person with a cable TV company visited my home and made a sales presentation more than an hour, soliciting a contract for a discount package of Internet, electricity, TV and phone services.

[Case5]

I received an email from a mobile phone company soliciting to compare and check prices in preparation for electricity retail liberalization.
Advice for consumers
Collect information on electricity retail liberalization by yourself and beware sales talk such as "The cost will be surely reduced". Contact a company registered by the Minister of Economy, Trade and Industry or call the helpline of the Ministry of Economy, Trade and Industry.
Explanations such as "If you switch to another electricity company, a new electric wire has to be installed" and "The electricity will be off if your contract company goes bankrupt" are false. Inquiries about these types of solicitations can be directed to the consultation service of the Electricity Market Surveillance Commission under the Ministry of Economy, Trade and Industry.
If you are solicited like "The fee will be reduced", "You can use accumulated points", etc., you need to confirm contract details such as conditions to get a discount, whether or not the discount is made only for a package contract including non-electricity services, whether or not the contract period is too long, and the existence of penalty for breaking a contract.
Some companies are still soliciting consumers to make a contract for solar power systems, propane gas, storage battery, etc. using the opportunity of electricity retail liberalization. Carefully consider if it is really necessary for you to make a contract not directly related to electricity retail liberalization.
If you concluded a contract for electricity with an electricity company through door-to-door sales or telephone solicitation, you can use the cooling-off rule based on the Act on Specified Commercial Transactions.
If you have received a suspicious phone call, if you encounter a problem in concluding a contract, or if you feel uneasy, consult your local consumer center (consumer hotline: 188).