Cancellation of contract with an adult website business cannot be negotiated by an administrative scrivener!
The most common inquiries and complaints every year received by NCAC and local consumer centers across Japan are related to adult websites. Callers of these cases reported that they were charged fees after connecting to an adult website by mistake or that they received an e-mail urging to pay fees for viewing an adult website. Some of these consumers searched the internet trying to consult a local consumer center, as a result of which they contacted to ask for relief an administrative scrivener 1 purporting to solve troubles associated with adult websites, and then they were charged fees. In reality, administrative scriveners cannot provide such a service. The number of these inquiries and complaints surged in FY2014. There are some businesses which provide consulting service or place advertisements using names similar to consumer centers.
Accordingly, NCAC has introduced some of these cases as well as key points to avoid consumer troubles, and has requested associations of administrative scriveners to rectify their services.
1 Qualification to prepare legal documents to be submitted to administrative agencies as well as documents associated with contracts and the like under the Certified Administrative Procedures Legal Specialist Act
The number of consultations counted by PIO-NET 2
Inquiries and complaints about administrative scriveners related to consultation on adult website troubles 3 drastically increased in FY2014, amounted to 516, compared to 15 in FY2013 (Diagram 1).
Diagram 1: the number of consultations about administrative scriveners related to consultation on adult website troubles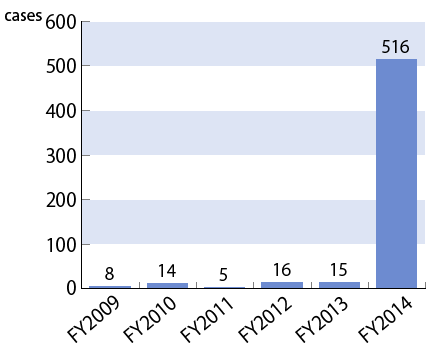 The number of consultations amounted to 8 in FY2009, 14 in FY2010, 5 in FY2011, 16 in FY2012, 15 in FY2013, and 516 in FY2014.
2 PIO-NET (Practical Living Information Online Network System) connects NCAC and local consumer centers across Japan, etc. through an online database of information on consumer-related inquiries and complaints. This information on the number of inquiries and complaints was compiled with data registered through May 1, 2015 and excludes unclear cases, etc.
3 It refers to consultations seeking for cancellation of adult website contracts or solutions for adult website troubles or one-click billing fraud among those associated with administrative scriveners.
Sample cases of inquiries and complaints
[Case1]

I contacted an administrative scrivener who appeared high in the search results and asked for relief.

[Case2]

I paid 40 thousand yen to an administrative scrivener who told me to unregister me from an adult website.

[Case3]

I sent my personal data to an administrative scrivener who told me to relieve my damage associated with an adult website.
Characteristics highlighted by the sampling of inquiries and complaints
It is highly possible that refund request and negotiation for cancellation of contract by administrative scriveners violate the Attorney Act. Administrative scriveners are not allowed to negotiate cancellation of contract. However, consumers tend to misunderstand that administrative scriveners can solve their troubles seeing advertisements by some administrative scriveners on the internet purporting "speedy solution", "we can get your money back" and so on. In some cases, consumers are explained by administrative scriveners that "we can delete your personal data", "we will stop the billing", etc.
There is a service for advertisements on the internet called "listing advertisements". Some consumers view advertisements without recognizing the difference between the search results and the advertising columns, then, contrary to the original intention to consult a public consumer center, they consult administrative scriveners who will charge solution fees. In some cases they pay the fees.
Advice for consumers
First of all, never contact an adult website business, nor pay them even if you are charged. Properly check if the consultation service you found is a local consumer center or an administrative scrivener in order to avoid making a contract with any administrative scrivener purporting to cancel your contract or solve your problem.
When searching on the internet, be aware that both search results and internet advertisements are shown. When you search for a local consumer center, ascertain if the organization you found is really a local consumer center. If it is, register the contact details in your cell-phone or smart phone.
There will be no charge except for telephone charge if you consult a local consumer center established by the local government. If you are charged fees for solving your problem or for deleting personal information, the organization you contacted is not a public consumer center.
Request to the relevant organization
NCAC has provided information on this matter and requested the following points to the Japan Federation of Certified Administrative Procedures Legal Specialists Association.
To ensure proper service and avoid any action misleading consumers as if they relieve consumer damages.
To further disseminate the proper service as administrative scriveners and explain consumers the paperwork and its effects prior to making a contract.