Beware of injuries and sickness during personal strength training! Unexpected pitfall when trying to get fit in the pandemic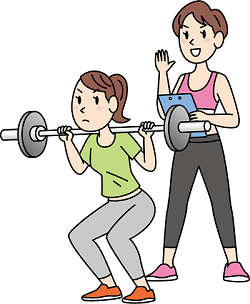 A survey by the Japan Sports Agency shows that an increasing rate of people are willing to exercise or play sports since the pandemic broke out and that most people put emphasis on infection control measures during exercise and sports in Japan (e.g. avoiding three Cs: closed spaces, crowded places, and close-contact settings). In such social trends, personal strength training, where consumers take one-to-one lessons instead of group lessons, has drawn attention. Some of the personal strength training programs give advice on daily food choices as well.
In June 2021, the Doctor Mailbox1 on NCAC's website received a report that a consumer who had been instructed on strength training and diet in a gym suffered a serious injury (lumbar fracture, taking over a month to fully heal) after lifting a barbell in the forward bending position.
Furthermore, PIO-NET2 received 105 inquiries and complaints from consumers who had suffered harm due to personal strength training in about five years since fiscal 2017. One fourth of the consumers needed medical treatment for more than one month. Some of them damaged their nerve, spinal cord, muscle or tendon.
Therefore, NCAC decided to collect information on harmful incidents during personal strength training to issue a consumer alert.
1 In August 2014, NCAC set up a web page called "Doctor Mailbox" to catch information directly from doctors about accidental injuries caused by products or services in order to help prevent similar incidents.
2 PIO-NET is a database that collects information on inquiries concerning consumer affairs by linking NCAC with local consumer affairs centers and similar organizations across Japan via an online network.
Common cases
Numbness and pain in the back due to personal strength training
Over two month's medical treatment for muscle pain due to personal strength training in a gym
Rotator cuff injury after lifting a barbell
Advice for consumers
Before you receive personal strength training, make sure that a training plan has been made based on your fitness habits, body strength and fitness test results.
If you feel uncomfortable during training, stop the training. Don't force yourself.
When you feel abnormal pain or get sick, tell your instructor how you feel and get medical attention if necessary.
Request to businesses
Personal strength training is provided under the guidance of an instructor. However, there has been an increasing number of reports of injuries and sickness caused by personal strength training. In a serious case, it took more than one month to heal fracture, etc.
Take safety measures to prevent injuries and sickness caused by personal strength training (e.g. introducing a flexible system where instructors can customize training contents).
Make a training plan suitable for each person.
Adjust exercise intensity to match each person's fitness. Make sure that instructors put emphasis on safety.
Establish a mechanism to ensure the quality of instructors.
Request to the government
Give assistance to businesses that develop voluntary guidelines to ensure the quality of instructors and the safety of users to prevent injuries and sickness caused by personal strength training.
Raise consumer awareness about the aforementioned issue to prevent injuries and sickness caused by personal strength training.