Memorandum of Cooperation on Complaints Handling concluded between NCAC and Consumer Rights Protection Centre of Republic of Latvia
The Memorandum of Cooperation (MoC) on Complaints Handling has been concluded between the National Consumer Affairs Center of Japan (NCAC) and the Consumer Rights Protection Centre of Republic of Latvia.
The MoC signing ceremony was held at the office of the Ministry of Economics of Latvia on September 25, 2019. Mr. Tsuneo Matsumoto, President of NCAC and Ms. Baiba Vitolina, Director of the Consumer Rights Protection Centre signed the MoC.
The Consumer Rights Protection Centre is a government agency of Latvia aimed at promoting consumer interests, enhancing consumer protection and ensuring fair markets, which engages in enforcing laws under the jurisdiction thereof, collecting and sharing information concerning goods and services, offering advice for consumers, providing alternative dispute resolutions (ADR) and others.
Based on the MoC, NCAC and the Consumer Rights Protection Centre will make cooperative efforts to solve problems faced by consumers in transactions between Japan and Latvia (i.e. problems encountered between Japanese consumers and Latvian businesses as well as those between Latvian consumers and Japanese businesses), for example, troubles associated with international travels, cross-border online shopping, etc.
NCAC will continue to address the resolution of cross border consumer disputes in cooperation with consumer organizations in other countries.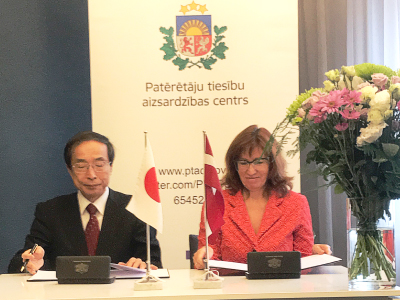 Scene of signing ceremony: President Matsumoto (left) and Director Vitolina (right)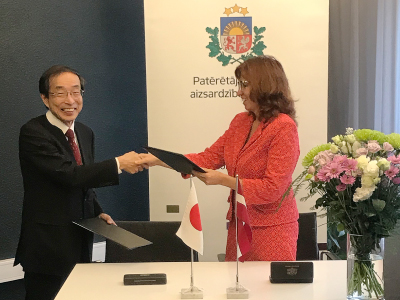 President Matsumoto (left) and Director Vitolina (right) after signing the MoC