MOU of Complaints Handling concluded between NCAC and Consumer Council of Hong Kong
The Memorandum of Understanding of Complaints Handling has been concluded between the National Consumer Affairs Center of Japan (NCAC) and the Consumer Council of Hong Kong.
The MOU signing ceremony was held at the office of the Consumer Council of Hong Kong in the Hong Kong Special Administrative Region on June 20, 2018. Mr. Tsuneo Matsumoto, President of NCAC and Mr. Wong Yuk-shan, Chairman of the Consumer Council of Hong Kong signed the MOU.
The Consumer Council of Hong Kong is a statutory body established in 1974 under the Consumer Council Ordinance. With an aim to enhancing consumer welfare and empowering consumers to protect themselves, the Council collects and disseminates information concerning goods and services, receives consumer complaints and giving advice to consumers, tenders advice to the government or to any public officer, encourages businesses and professional associations to establish codes of practice to regulate activities of their members, and carries out some other functions.
Based on the MOU, NCAC and the Council will make cooperative efforts to solve problems faced by consumers in transactions between Japan and Hong Kong (i.e. problems encountered between Japanese consumers and Hong Kong businesses as well as those between Hong Kong consumers and Japanese businesses), for example, troubles associated with international travels, cross-border online shopping, etc.
NCAC will keep working for resolution of cross border consumer disputes in cooperation with consumer organizations in other countries.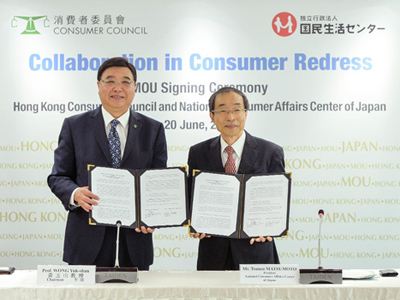 Chairman Wong (left) and President Matsumoto (right) after exchanging the MOU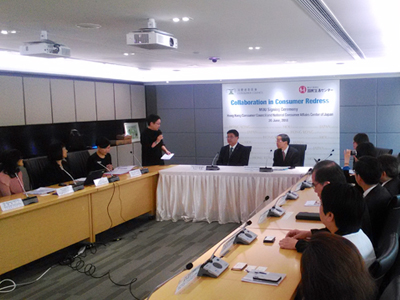 Scene of the MOU signing ceremony