MOU of Complaints Handling concluded between NCAC and Consumers' Foundation, Chinese Taipei
The Memorandum of Understanding of Complaints Handling has been concluded between the National Consumer Affairs Center of Japan (NCAC) and the Consumers' Foundation, Chinese Taipei (CFCT).
The MOU signing ceremony was held at the foundation's office in Taipei City on June 15, 2017. Prof. Emeritus Tsuneo Matsumoto, President of NCAC and Mr. Kai-Hsiung Yu, Chairman of the foundation signed the MOU.
CFCT is the most well-known and the largest consumer organization in Taiwan. CFCT accepts inquiries from consumers, conducts product tests, publishes information magazines for consumers, and promotes international exchanges. With the aim of protecting consumers, CFCT encourages the government to revise laws and systems if necessary.
Based on the MOU, NCAC and CFCT will make cooperative efforts to solve problems faced by consumers in transactions between Japan and Taiwan (i.e. problems encountered between Japanese consumers and Taiwanese businesses as well as those between Taiwanese consumers and Japanese businesses), for example, troubles associated with international travels, cross-border online shopping, etc.
NCAC will keep working for resolution of cross border consumer disputes in cooperation with consumer organizations in other countries.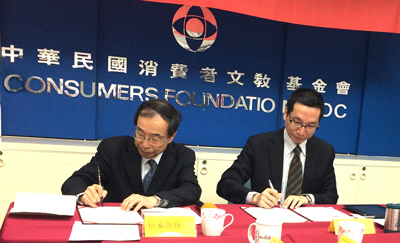 Scene of signing the MOU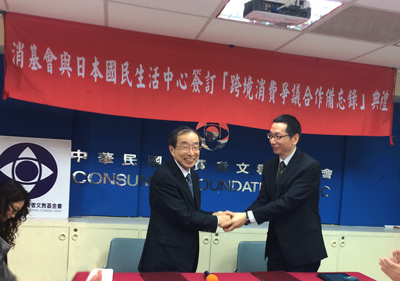 Prof. Emeritus Matsumoto (left) and Mr. Kai-Hsiung Yu (right) after exchanging MOU
Reference
The following link directs you to the article about this subject on the MOU partner's website.