MOU of Complaints Handling concluded between NCAC and the Chartered Trading Standards Institute in the UK
The MOU of Complaints Handling has been concluded between the National Consumer Affairs Center of Japan (NCAC) and the Chartered Trading Standards Institute (CTSI) in the UK in order to ensure mutual cooperation in solving cross border consumer complaints.
Mr. Tsuneo Matsumoto, President of NCAC and Mr. Leon Livermore, Chief Executive of CTSI signed the MOU on January 25, 2017. The MOU shall be effective as of February 1, 2017.
CTSI is a non-profit membership organization representing trading standards professionals. Each municipality in the UK has a trading standards department which is engaged by numerous stakeholders such as local government officials, legal professionals, and other professionals related to consumer issues. CTSI supports, educates and represents these professionals, while holding seminars for businesses, disseminating trading standards, and conducting campaigns to protect consumers and to raise consumer awareness.
Since 2008, CTSI manages the UK European Consumer Centre (UK ECC), which is the British base for the European Consumer Centre Network (ECC-Net). ECC-Net is a network of consumer consultation bodies in 30 countries including EU member states, Norway and Iceland.
Based on the MOU, NCAC and CTSI will make cooperative efforts to solve problems faced by consumers in transactions between Japan and the UK (i.e. problems encountered between Japanese consumers and British businesses as well as those between British consumers and Japanese businesses), for example, troubles associated with international travels, cross-border online shopping, etc.
NCAC will keep working for resolution of cross border consumer complaints in cooperation with consumer organizations in other countries.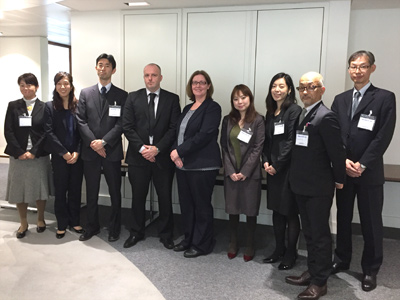 When NCAC staff members visited CTSI with a view to concluding the MOU
Reference
The following link directs you to the article about this subject on the MOU partner's website.